---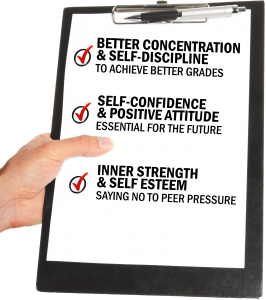 Is your child ready for Back To School?
Sure they might have their backpacks, notebooks and pens. But do they have the focus to achieve better grades, they confidence to school challenges, or the discipline and self esteem need to say no to peer pressure?
This year, make sure your kids have ALL the tools necessary to be successful in school.  In addition to the benefits of practical self defense skills, it's proven that students who study Taekwondo also do better in school.  In Taekwondo, they gain self-discipline and self-confidence plus they learn to focus and to think quickly and clearly.  These skills get transferred to the academic classroom and result in a successful school year and life.
With our "Back To School" special, your child and a friend can split a 3 week Intro class – buy one, get one FREE!  But hurry, Intro Classes must be reserved by August 15th!