Looking for a one-of-a-kind, exciting birthday party venue for your child? A DKFA Birthday Party is an awesome way to celebrate his or her birthday!

Your reservation covers the whole facility, where your child becomes a "black belt" for a day and gets to be the special assistant to the Instructor. Opening fun and games are followed by pizza and then a full Taekwondo class that emphasizes the tenets of Taekwondo – Courtesy, Integrity, Perseverance, Self-Control, and Indomitable Spirit – all in a fun and safe setting!
E
ach DKFA Birthday Party is individually customized to be an exciting, fast-paced and one-of-a-kind event. Full supervision ensures a safe environment.
Your Event Includes: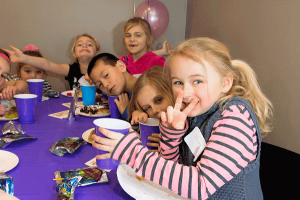  Full setup and cleanup
 Invitations and Thank You cards
 30 minutes of fun and games, 30 minutes of pizza and cake, and a personalized Taekwondo class
 Birthday child gets to break board
 Cake cutting with samurai sword – there's even an option to keep the sword!
 Private use of the facility
 Standard paper products; i.e. cups, plates, etc.
 Each guest gets coupon for two free private lessons
 (optional) Pizza and drinks for children (cake may be brought in but is also available along with additional food)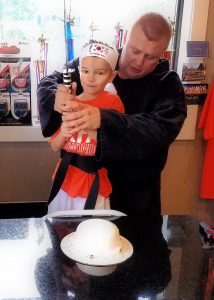 Check out more Birthday Party Pics HERE
Get more Birthday Party Info now:
Click HERE to complete a Birthday Party Participation Waiver